Are you contemplating getting a pair of prescription sunglasses but wondering if they're worth the investment? Prescription sunglasses can be a worthwhile option for anyone who wears glasses or contact lenses and wants to protect their eyes from the sun's harmful rays.
Let's explore sunglasses and the benefits of prescription sunglasses, from improved vision to better eye protection.
Why Is Wearing Sunglasses Important?
Constant or regular exposure to UV light can affect eye health. UV-blocking eyewear can decrease your risk of developing the following eye conditions: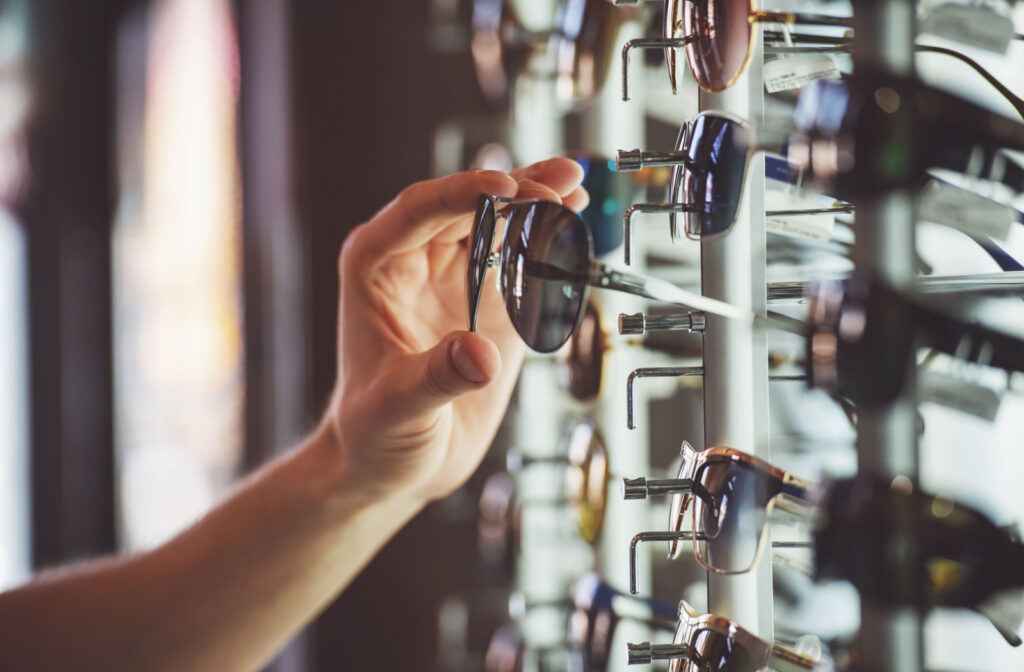 Prescription Sunglasses
Prescription sunglasses feature customized lenses made with your specific prescription. You may have considered these if you already wear glasses. And sometimes, no matter how convenient polarized lenses that clip on and off your eyeglasses are, they are still something extra you need to do.
Photochromatic lenses, or transition or tinted lenses, change from clear to tinted when you go from low to bright-lit environments or indoors to outdoors. While they have the benefit of convenience, they might not work for everyone as you can't control the transition.
Prescription sunglasses, in comparison, are one piece of eyewear that helps you see clearly and protects your eyes from the sun's harmful rays. You can have the control of choosing when to use tinted lenses, with the clarity of your everyday eyeglasses.
Prescription lenses can also be beneficial for those who wear contacts, as they can be used at the beach and easily removed for activities like swimming. This can help you avoid the risk of contaminating or losing your contact lenses in the water.
The Benefits of Prescription Sunglasses
Prescription sunglasses offer many benefits, including:
Improved vision in outdoor settings
UV protection, which helps prevent certain eye diseases
Better eye health, as they can reduce eye strain, headaches, and possible injury
Better eye protection with reduced glare from sand, snow, water, and ice
Customized to your style, preferences, and prescription
Are Prescription Sunglasses Worth It?
Prescription sunglasses can be a great investment, but whether they're right for you can depend on your lifestyle and everyday needs. If you're still unsure, here are some points to consider to help you make an informed decision:
How much time do you spend outdoors, in bright sunlight and overcast weather, or driving?
How much do you spend on clip-on or magnetic sun lenses for your prescription glasses?
When weighing the benefits for you, your eye care provider can be a great resource!
Choosing Prescription Sunglasses
With so many things to consider, such as UV protection, shape and size, polarization, and colour of the lenses, it can seem overwhelming when choosing prescription sunglasses. Your eye doctor can help you find the perfect pair by keeping the following things in mind:
UV protection is the most important thing to have in prescription sunglasses. Choose 100% UV protection or close to it as possible from UVA and UVB rays.
Polarized lenses have a vertical filter that blocks the glare from reflective surfaces, which is horizontal light. They can provide clear vision in bright light and increase contrast.
There are different materials used in prescription sunglasses. Various lens coatings can be applied to enhance the functionality and durability of the lenses, such as shatter-resistant, anti-reflective coatings, and scratch-resistant. Speak to your eye doctor to determine the best lens material.
The frame should fit comfortably and securely on your face without slipping or causing discomfort. It should also be compatible with your prescription, making sure the lenses are positioned correctly for optimal vision.
The lens tint is a personal preference, but darker lenses do not offer more UV protection. However, choosing glasses with amber, green, or gray lenses can help with contrast if you play sports.
Protect Your Vision and Your Eyes
Prescription sunglasses are worth it when you're invested in protecting your eyes from harmful UV rays and want to enjoy clear vision outdoors. With a wide range of styles, lens materials, tints, and coatings at Maple Ridge Eye Care, you can find a pair of prescription sunglasses that suit your needs, budget, and personal style.
To see what we have to offer, book an appointment in Maple Ridge today!